Knowledge Stations encourage students to learn scientific and technological education
The Knowledge Stations of Serra (ES), Marabá (PA) and Arari (MA) carry out the project "Scientific and Technological Education". This initiative aims to boost the inclusion of scientific and technological education in the learning of children and adolescents enrolled in the Stations. In addition, the project also looks to build guidelines for this area, as well as to popularize scientific knowledge and the use of communication and information technology.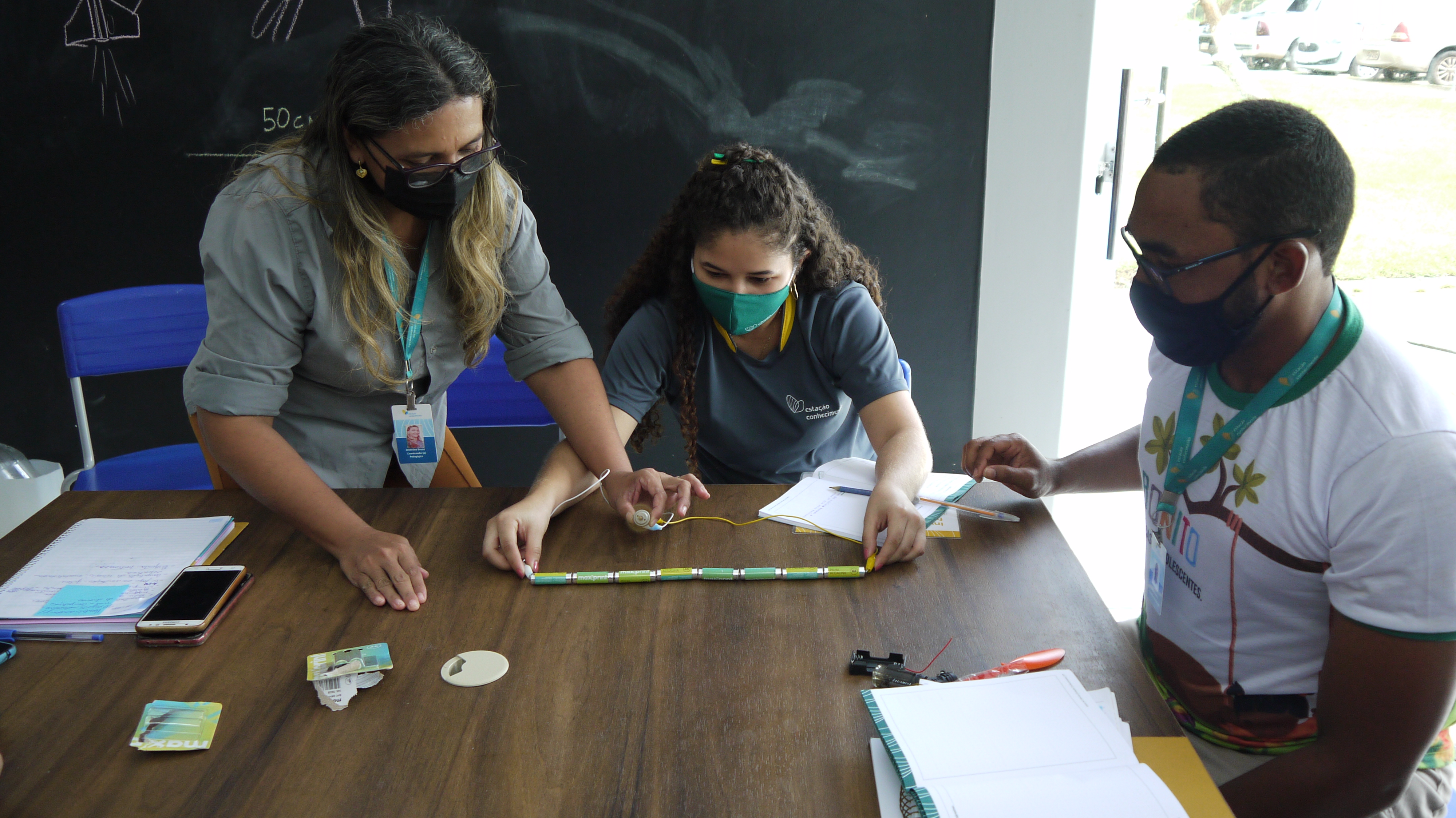 The project has teacher training so that they develop the best work with students and encourage the exchange of learning with the surrounding community. Some activities are organized so that they take place in partnership with the public schools around the ECs, with the students of the Stations as advisors to their colleagues. The activities involve families to share local knowledge, expanding the understanding of the territory as a power and bringing recognition and possibilities for intervention.
Wellina Barroso, professor at the Serra Knowledge Station says about the training:
""We had never thought about the abilities of each educator. We have been discovering ourselves throughout the training process and I am sure that the children will discover themselves too and will enjoy it very much."
Creativity and collaboration
The activities take place in person at the Makers Spaces. Students are encouraged to work on creativity through the application of interdisciplinary proposals and projects using tooling, woodworking, electronics and recyclable objects. With an investigative methodology, the actions seek to promote the development of critical and scientific thinking. About 600 items have been acquired and donated to ECs of Arari, Serra and Marabá. Altogether, the initiative will mobilize approximately 1,700 children and young people throughout the year.
The Scientific and Technological Education project is carried out by MS Educação, a consultancy specialized in educational projects in the area of STEAM (Science, Technology, Engineering, Arts and Mathematics). The Experimental Physics Laboratory of USP works together with the MS Educação. They are a partner responsible for preparing a set of activities for the Maker Spaces, as well as defining the equipment that the ECs received for the assembly of such spaces.
Scientific and technology education in practice: teachers and students carry out Astronomy and Astronautics mission
The first round of conversation took place in March, and was attended by Prof. PhD Walmir Cardoso, specialist in the field of Astronomy and with extensive experience in scientific dissemination.
More than 100 hours of face-to-face training were also carried out for teachers at the Knowledge Stations of Arari, Marabá and Serra on the theme of Astronomy and Astronautics.
In the workshop, 3 challenges were worked: Rockets, Flying Machines and Observation of the Stars. In this proposal, students are challenged to develop different types of rockets. Furthermore, they have to understand the functioning of flying machines, and broaden their gazes on the stars, solar system and constellations. All of this through the use of software and the construction of models.
Watch the balloon rocket mission carried out with the students and educators of the Knowledge Station of Marabá:
Learn more about Knowledge Stations initiatives:
Sustainable technologies applied in food production at the Knowledge Station Arari
"Knowledge Stations" resume face-to-face educational activities for children and adolescents
School kits are donated to students enrolled in Knowledge Stations