The "Literacy Trails" project advances in the training of education technicians in municipalities in Maranhão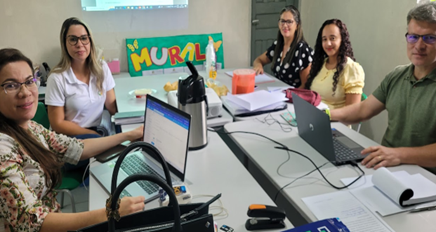 The "Literacy Trails" project a partnership of the Vale Foundation with the Government of Maranhão, the Getúlio Vargas Foundation and 24 municipalities of the Carajás Railway, works to guarantee the right to quality education to about 70,000 Maranhão children, creating opportunities to expand the learning of children enrolled in the 1st to 3rd year of Elementary School. Among the important stages of the initiative is the training of technicians, which occurs in two different phases.
Phase I consists of a training course for managers and technicians, with a workload of 72 hours. Phase II, called Practice to Advance, aims to offer advice to the technicians of the Municipal Department of Education. At this moment, there is a focus on the use of the tools presented in phase I of the training.
The Practice to Move Forward phase was carried out in a hybrid way, in person and at a distance, with the presence of the secretaries and technicians of the SEMEDS, coordinated by the consultants of FGV, with extensive experience in management of education networks. The objective was to plan actions to strengthen learning for the education networks. The project was divided into three stages: presentation of the action; individual online interview with the technical team of each of the municipalities; and presentation of the diagnosis and construction of the action plan. Twenty-four visits were carried out in all municipalities of the "Literacy Trails" project
The third phase is in-person. From October 24 to November 11, a meeting was held to talk about the challenges and suggestions for actions, with the participation of the Secretary of Education and the management team of each municipality. Based on the diagnosis and the data presented in the dashboard, the secretaries and technicians of the municipalities, with the guidance of the consultants, will define the strategies and goals to be inserted in the action plan tool available on the "Literacy Trails" project platform.