Event "Web, identity and culture" values quilombola culture in Maranhão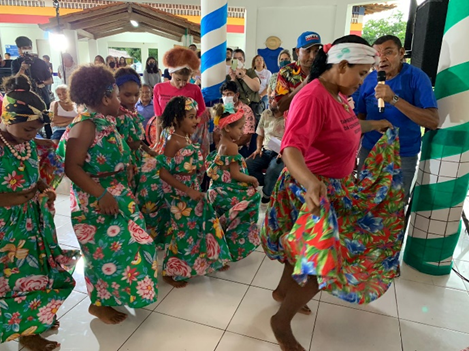 The Literacy Trails project, in partnership with the Education Secretariat of the Municipality of Santa Rita, held an event that appreciated quilombola culture, mostly, in the literacy process. The "Web, identity and culture" meeting took place at the Heráclito Nina Municipal School, a quilombola community of Recurso. In the occasion, experts and consultants from Maranhão culture were present.
Integrated into the Learning Management System, that includes 24 municipalities, the project has the training as one of the parts of its structuring activities. The initiative has as its axis one of the strongest cultural expressions of Maranhão: the Tambor de Crioula. This expression is recognized as an intangible heritage of Brazil.
Cultural experience has a socializing function for teachers. Additionally, it is associated with the criation of fundamental content in the school education of all children involved. Inspired by Santa Rita's experience, educators will suggest cultural mobilizations with Maranhão culture actors in their own communities. The initiative is also considering the rich diversity existing in the territories.
"Today, the Recurso community is being privileged to host this event. That children can experience and understand what the quilombo is and why they live here. So, those photos there depict the typical foods, of what their ancestors worked in the field and, today, if we do not seek to rescue this reality, it will die. We have to seek this reality so as not to let it die."
Maria Justina Launé, supervisor of Heráclito Nina Municipal School.
Figures from popular culture were part of the event
With the presence of 200 people, the event featured important figures from the popular culture of Maranhão. Among the participants were names such as Mr. Raimundo Alves "Celicano", singer of Tambor de Crioula – Fogoso Quilombola Community. Likewise Mrs. Maria Raimunda Melo Dona Mundinha – storyteller. Also present were experts Jandir Gonçalves, a member of the Casa de Nhozinho Museum, and João Damasceno, a member of the Maranhão Natural History and Archaeology Research Center.
As an incentive to local culture, the pedagogical activity led to the creation of a kid's Tambor de Crioula group. Professor Sandra Cristina was in charge of the leadership. The group followed the example of kid's Tambor Raízes of quilombo, from Vila Fé em Deus, in the same municipality.